Club Instructors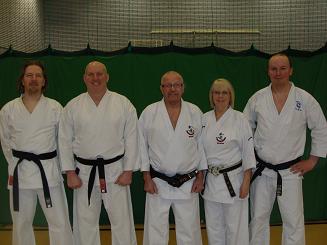 All our instructors are volunteers and have enhanced CBR checks to ensure their suitability for working with children. All of them are certified First Aiders and hold coaching qualifications from the English Karate Federation (EKF). Many of them are qualified Judges and Referees.
Mick Ryde (5th Dan)
I first started training karate in 1975 at 33 years old. I started running Ripley Club in 1980 and it became and still is a very successful club, with many of my students doing very well in competitions at Club, National and some at European level which I am very proud off. The club currently has around 12 black belts, both Junior and Senior. I took my 5th Dan in 2003 and have now been training for 33 years.

Iíve been the general secretary for Aiwakai for approx 15 years. Iím now the licensing officer. Iíve also been involved in the running of England Wadokai since it first started, though at the moment Iíve taken a back seat. England Wadokai has taken me to many European countries in which I have been involved with Refereeing & Judging in Kata & Kumite. Judging at the Worlds Championships in Japan was a great honour for me.

My interests are Heavy metal music, Motor Bikes - I have got a Harley Davis at the moment, I enjoy watching car and bike racing on TV, or watching live at race tracks. I enjoy a good pint of beer HA HA and meeting old and new friends. I am semi retired from work I am a Chef Engineer which I have done for 30 years.
Sue Ryde (5th Dan)
I first started my Karate career in 1992 at the nice old age of 39 HA HA. My involvement in karate started when I took my children to Ripley Karate Club. The senior instructor was Mick. Mick convinced me to join in with the kids. And I really enjoyed myself, carrying on for 16 years, even when my children stopped going. All these years I have helped Mick with the running of Ripley Karate Club, where Iíve coached students whoíve gone onto win European medals, Iím now a 5th Dan.

I have also been deeply involved in the running of Aiwakai and England Wadokai. Iíve competed in National and European competitions for the Wadokai squad and won numerous kata medals including a ĎTop 6í placing in the Japanese Nationals. Iíve been active in refereeing and judging for many years, and I was picked to Judge in the Wado World Cup Kumite Finals in Japan. I was also nominated to be England Wado-Kai Junior Kata Coach. At the moment I am Aiwakai treasurer. Away from Karate my interests are Motor Bikes, Music, Gardening, being with my grandchildren, at the pub with my friends and most of all Mick. I am a very busy woman with my Karate, Work, Aerobics and the karate club.
Sean Broome (2nd Dan)
I started training in Wado Ryu in 2001, when I was 32 years old. My eldest daughter had already joined Ripley Karate Club, and I felt it would be much more worthwhile and interesting to join in, rather than to sit watching every week! Now, all three of my children are kareteka. Unfortunately, they beat me up all the time!

During the day, I teach English at The University of Derby, where I am also researching nineteenth-century literature. When I have time to spare, I like to visit South Shropshire, where I was born and brought up.
Lars Nolle (1st Dan)
| | |
| --- | --- |
| | I started Shotokan Karate at the age of 14 but had to give up after a few months when my family moved to a different part of Germany. Years later, after moving to Wales, I started to train Budokan with Sensei Mike Tan and Sensei Andrew Clark at the University of Glamorgan. I reached purple belt but after our daughter Kim was born in 1999 I had to find a proper job and hence moved back to Germany. Ironically, it was our daughter who encouraged me to start Wado Ryu at Ripley Karate Club in 2006; after starting Karate herself and making me watch her training every week for about a month I thought I might as well join in the fun, which I did. So I started again as a white belt and moved up the ranks to 1st Dan. I am also involved in Refereeing & Judging. |
Derek Bishton (2nd Dan)
Mark "Jamie" James (1st Dan)
---